The door to the storage part of the basement is a design so clever you will wonder why everyone does not have one. It's a handmade cedar and mahogany door that is four feet wide with a huge window in the middle. The door is wide enough that you can wheel in bikes and load in beach paraphernalia and not crack your funny bone in the process. Again, Lydon's practicality strikes home.
Upstairs on the second floor the master suite is painted a light grasshopper green to accent the Claire Murray rug. It is the room with the dormers that you can see from the front. The effect the dormers have on the master suite is to give it a cozy, cottage feel with the benefit of a fireplace. It's a large 20 x 24 room that can house a king-size bed and substantial pieces of furniture without feeling closed in.
Across the hall is the daughters' room. It has its own bath and five windows that allow for plenty of natural lighting. It's painted a cotton candy pink, which takes advantage of all the windows and the lighter wooden flooring. It's the perfect room in which to read Charlotte's Web and Harry Potter. In a few years it'll be the perfect room for a teenager, but Lydon's not ready to discuss that proposition just yet. Both upstairs bedrooms sport closets that run almost the width of the rooms. While not deep in scope, the closets utilize their wide space by having floor-to-ceiling cubes in place and various lengths of closet rods which hold a variety of possessions including clothes, games, shoes, and boxes holding love letters and secret treasures.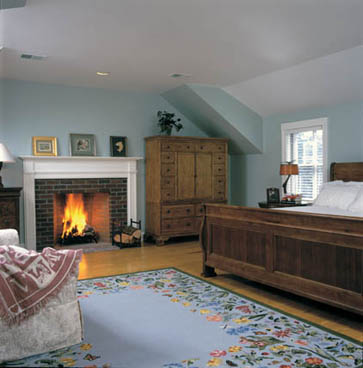 The outside of the house is yet another example of Lydon's form and function creed. There is nothing on the outside that will ever need painting with two exceptions: the columns on the front entry and the ceiling of the front entry. Every other surface will never require paint. That feature alone saves thousands of dollars on future painting jobs that will never have to happen. What he has done is use cedar for all the eaves and Andersen vinyl windows. The windows, which fold inward for cleaning, come in several colors, some of which conform to the HDC standards including the deep green that Lydon chose. It's one of the features that allows the house to blend so well into its evergreen surroundings.
Through the whole process, Lydon has kept his cool and used the delays to bargain hunt, to negotiate deals, and to make sure he was getting the best use out of his design plan. He also used the extra time given to him by delays in construction to peruse magazines for ideas and inspiration. The house that James has built for his family is one that is inviting, practical, and most of all, a home.